CDN for games. Gaming CDN
Game Delivery Network. CDN for Games by SpaceCDN
SpaceCDN is glad to offer you top-notch solutions for gaming content delivery. With CDN for games, you will ensure great customer experience and strikingly fast data transfer.
Why Speed Matters?
Game production is one of the most quickly developing spheres in IT. No matter how great your game is, users won't like it if they will have to deal with low connection speed and constant lags. Modern users are not ready to tolerate slow loading speed anymore, which is why the quality of connection is another crucial factor defining the success of your project. If your game is becoming very popular, be ready to handle growing traffic. To sustain high speed connection to your game and error-free delivery of files, you can use a CDN for games.
How CDN for Games (Gaming CDN) Can Help You?
Fast and efficient game content delivery requires reliable state-of-art technologies, and CDN is one of them. Being a system of servers that cache and deliver static and dynamic objects, CDN improves user experience by making users wait less and enjoy excellent quality of game content. What makes CDN necessary in games sphere?
Fast speed of game content delivery. Server is selected according to user location: players are connected with the closest points of presence possible.
Strict requirements to connection safety.
Quick and reliable technical support that allows solving your problems in time.
As soon as you implement CDN, game content will be loaded much faster, ensuring excellent user experience and stable traffic growth.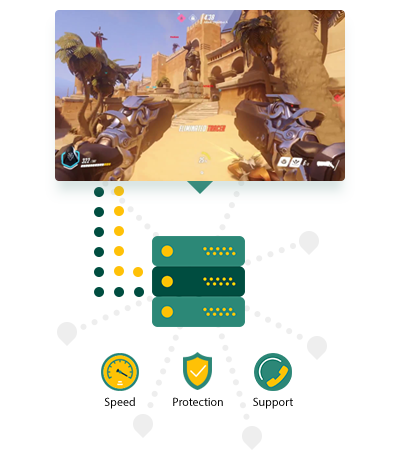 Why SpaceCDN?
Acceleration of gaming sites can be quite costly, but not with SpaceCDN. We provide high-quality networks of the most advanced providers for reasonable prices. Our CDN solutions are superb thanks to:
Huge networks counting more than 100 PoPs.
Hotlink protection.
Token authentification.
Parallel downloads.
IP Access Policy.
SSD Drives.
To learn more about CDN benefits, contact our support team. We will answer your questions and find out an appropriate game CDN solution for you.